The Journey to Success Requires a
SNAP Yes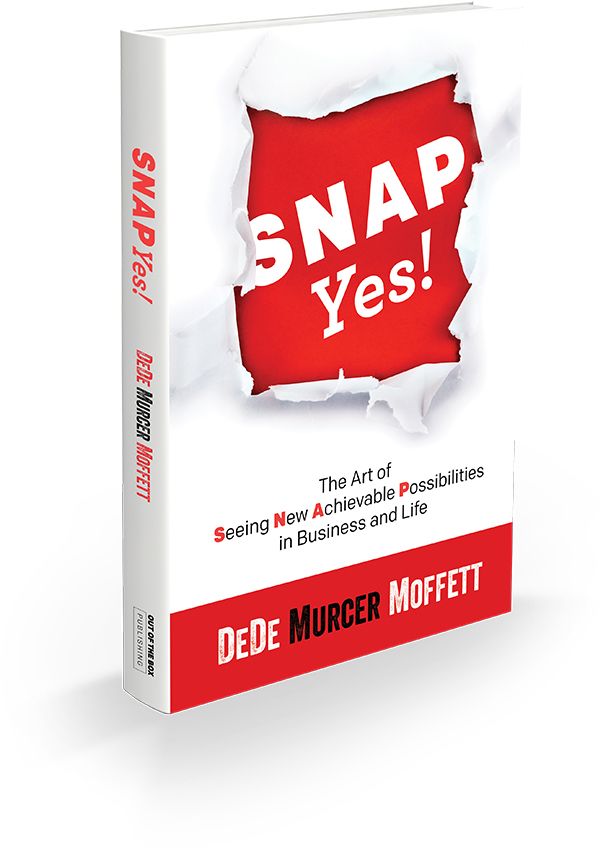 Loved It!
It's a message America really needs to hear right now.
-Nido Qubein Founder of National Speaker Association Foundation
Knocked It Out of The Park!
I am ordering 5 copies for our adult children as soon as it becomes available.
-Fritz Peterson, Former New York Yankee Pitcher

It's not just alcoholics who have the market cornered on numbing out. An epidemic of disengagement has settled across America, and the cost is alarming. Unenthusiastic, unmotivated employees cost the U.S. economy $550 billion a year in lost productivity, creativity, and innovation. But there's a much larger cost: When we're disengaged at work, we're also disengaged in life—and this manifests as chronic fear and depression, anxiety, addiction, lost dreams, and broken relationships. But you can change it in a SNAP!
Learn DeDe's proven personal and professional success strategies to wake up what matters most so you can live a SNAP-tastic life now.
" It does not matter what you are facing in life—whether you are feeling "stuck" in a relationship or your business is struggling, the bottom line message is to take responsibility and move into action. In a day and age where it seems people want to "blame" parents, the economy, or the government DeDe's book helps motivate people to change what they are able to change, and to take action. Take a step out of the box you have created for your self, and take a risk on what gives you passion, purpose and meaning!" -Earl R Henslin, Psy.D., B.C.E.T.S. Psychotherapist, Author, and "Brain Doctor"
It's an Ace!
DeDe keeps everyone wanting more! The information is relevant to business, life and athletics.
-Gary Trost, First Vice President, United States Professional Tennis Association

Gotta Have It!
Don't just say yes to this book. Say SNAP YES!
-Jon Gordon Keynote Speaker and Bestselling Author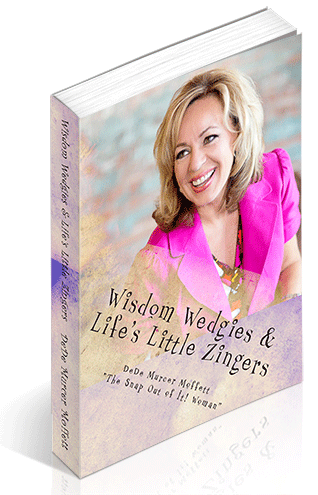 Now on Amazon! Get Your Copy Today – Order Now
Wisdom Wedgies and Life's Little Zingers
Do you ever have one of those days when you just need a little something to keep you moving forward? Nothing is more powerful than humor and hope.
Wisdom Wedgies and Life's Little Zingers is filled with humorous, thought provoking and powerful bite-sized messages that will help you move past fear, dump your doubt, and gain the clarity you need to stay strong throughout the day. Keep one copy at home and one at the office. (Makes a great gift too!).
You can't afford to miss a daily dose of inspiration!
Motivation that gets stuck in all the right places
Couldn't Put It Down
"This is a very humorous, delightful read while still being extremely insightful and introspective."
-Sunny Anne

Flood of Emotions
"Humorous, touching and inspirational...these little zingers really make you think...I laughed and cried all the way through it."
-Barbara Green